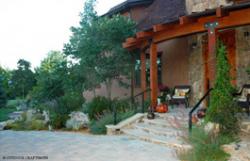 While some might say something like "would you attempt to operate on yourself?" in order to make a nonsense comparison, Outdoor Craftsmen prefers to offer this list of benefits of hiring a reputable landscape designer:
You will increase the value of your home – up to as much as 15% over comparable houses. We not only add value should you wish to sell, but the work we provide to improve and enhance your landscape is enjoyed by you the entire time you are living in your home.
Landscapes literally grow in value over time.
Landscape designers have a plan. We think about outdoor environments as areas as well as a whole. We assess problem areas (drainage, grading, features and functionality, irrigation, and sustainability to name a few). When we are good stewards of your land – thinking through all the small but important details – we set you up to be good stewards of your land also.
Low-maintenance and xeriscaping aren't trendy buzzwords to us – they are thoughtfully considered decisions when designing for the future of your property and your enjoyment of it year-round. We understand the environmental needs and requirements of native plantings, including the reduced use of water, less need for chemicals, and more bees, birds, and butterflies which contribute directly to global climate health.
Landscape designers know a lot about trees, and this is a good thing, considering their cost and longevity in the landscape. We know where to plant trees, and which trees are the best choice not only for aesthetics, but for heating and cooling, too.
A great design is inspiring! We work with you to understand what you want – including those special features that will make your outdoor space a living space and true extension of your home.
Great landscape designers go the extra mile to offer up solutions and features for your landscape that you may not have thought of yourself – but would love and enjoy immensely in the space (now that you think about it…). Think natural swimming pool, covered deck, pathways to quiet places, preservation of views, and solutions for privacy and noise reduction.
Expert landscape designers know regulations and code. We create a landscape you love and use often while minding the myriad of regulatory details we're both accountable for adhering to. You want expertise from start to finish. We remain involved with the construction and follow through of your project (even when what you thought was a quick weekend project could take weeks). You'll sleep better at night knowing we've dotted the i's and crossed the t's.
Call us for a consultation on how we can transform your great outdoors. 303.828.0408.