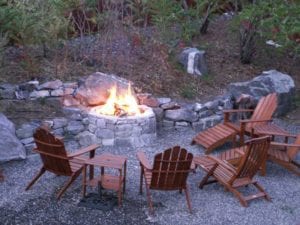 The warm glow of a fireplace when entertaining changes the entire ambiance of the fete. The flickering flames of a fire and the allure of its warm and cozy nature draw us outdoors during winter, too.
Today's outdoor fireplaces comes in all shapes, sizes, and tastes, but one thing they all have in common is their ability to draw people together into an intimate space. Conversation just flows more easily around a fire as friends and family gather to make a new memory, or establish a new winter tradition.
Outdoor Craftsmen's designers are seeing a trend in homeowners requesting fire features that meld with the interior design of the home. This is made easier to achieve because the newest adaptations in fire pits and fireplaces include rectangles, L-shapes, tabletop, and long and narrow, in addition to round and square.
Contemporary materials help to fuse the look of the fire feature with that of the home – such as stucco, façade stone, and concrete.
A variety of substances are used to attain a fun 'sparkle' for the fire – including popular fireglass, which comes in an abundance or gorgeous colors. Prefer a classic woodburning fire? We design every outdoor fire area custom to meet the desires and needs of our clients.
Safety is a priority concern for having a firepit or fireplace in your landscape. We consider every safety precaution when designing and building. If your property just isn't suited to a particular fire feature, we won't build it. No one wants stray embers escaping to float through the air to possibly wreak havoc where they land!
Put a fireplace in your landscape today and enjoy gather loved ones around it for years to come!