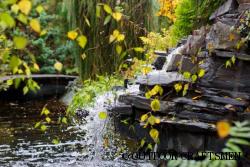 According to One Green Planet, spending time outdoors is important to our well-being, and denying a connection to nature works to our detriment.  Here are highlights from the article.
Your brain will be sharper. Indoor routines can become monotonous to our brains, reducing the good kinds of stimulation that they need to stay sharp.
Stress and anxiety won't be such a big deal. Ecotherapy is on the rise and proving helpful to people.
Ecotherapy uses nature as a tool and is gaining prominence in the mental health community.  One study found that taking a walk in nature lowered depression scores in 71% of participants.
You will likely sneeze less. Studies show that people who spend more time outdoors are less likely to suffer from respiratory allergies.
You will be nicer. Learning to relate to yourself in the context of the natural world versus "your" world helps you to empathize with others.
You'll develop muscles. It is thought that the more time you spend in nature, the more likely it is you are doing some form of physical activity.
You will be inspired. Turns out that people who are exposed to nature are more likely to engage in environmentally sustainable behaviors.