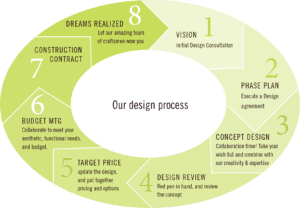 Magazines, social media, and garden centers are awash in "Spring!" this time of year. Gorgeous photos of lilacs in bloom and hydrangea bushes spilling over landscape pathways are alluring and might even entice us to purchase… except we are still firmly ensconced in winter and can't possibly turn still-frozen ground.
With a blizzard forecast for coming days, we high-altitude residents and landscape designers know better than to throw caution to the wind and forego our 'patience is a virtue' tenets. Our wooly sweaters, gloves and hats remain on mud room pegs above boot trays filled to overflowing with cold-weather footwear.
We're a hardy bunch though; more inclined to exercise practical planning and look to the near future when we spring into action and get very busy implementing this year's best landscape ideas.
Your trusty friends at Outdoor Craftsmen are here to help us put dreams to paper and get longed-for outdoor projects scheduled. We impart our expert knowledge in managing expectations of what can be reasonably implemented in our short growing season – always mindful of planting requirements and the warming of the ground for best success in landscape builds.
Ever the high-caliber professionals, the landscape artisans at Outdoor Craftsmen embrace the still-winter season with gusto by working with clients to thoughtfully and imaginatively implement the planning process so important to any landscape endeavor.
We take time to discover what inspires you so that the ideal landscape can be crafted to meet your needs. A carefully ordered process, perfected over decades of experience in the industry, is used to guide your project through various stages integral to great landscape design.
Use this not-quite-spring time to take advantage of our personalized landscape design consultation. There are no fees for our consultations and you are certain to receive incredible value in speaking with us.