Keep Your Gardens Healthy and Gorgeous
with Our Boulder, Colorado Garden Maintenance Services
Year-Round Maintenance for All the Different Types of Gardens on Your Property
Let the professionals at Outdoor Craftsmen be your green thumb when it comes to gardening. No matter what type of garden you have, we will maintain it with the highest level of care you'll ever find. Our maintenance crews have the experience, skills, and equipment necessary to keep your garden looking fresh and beautiful. We take an ecologically-sensitive approach to our maintenance, which means you can relax knowing your garden environment is a safe and healthy aspect of your entire landscape.
Whether you have flower gardens, vegetable gardens, or various types of gardens in your landscape, our maintenance crews will tend them throughout the seasons. We thoroughly understand the Boulder, Colorado climate, and we will keep an eye on the weather patterns for you, so we can provide optimum care for your plants. Keep reading to learn more about our garden maintenance services and how they can benefit you and your property.
Satisfying Clients with Fine Landscaping is Our Passion
Regular Garden Maintenance from Gardening Specialists Renews the Natural Elements in Your Landscape
Everything we do at Outdoor Craftsmen is meant to transform your landscape and create a unique outdoor experience that you can enjoy for years. Garden maintenance is one of the premium services we offer our customers. Gardening is hard work, and getting plants to grow up healthy can be a tricky business. If you want your gardens to grow their best, you can trust our professional gardening crews to do the job. Year-round maintenance of your Boulder gardens, no matter how small or large, will benefit your landscape, lending the entire property a healthy, beautiful natural appeal.
We will maintain any type of garden, including:
Vegetables

Flowers (annuals, bulbs, perennials)

Roses

Wildflowers

Raised garden beds

Container gardens

Rain gardens

Xeriscapes

Ornamental gardens
Garden maintenance throughout the seasons includes various tasks, including:
Spring garden bed preparation

Seed planting

Fertilization

Mulching

Soil treatments

Edging

Weeding

Irrigation

Hand-watering

Individual plant inspections and care

Fall harvest and clean up

Structural pruning

Bulb planting

Garden winterization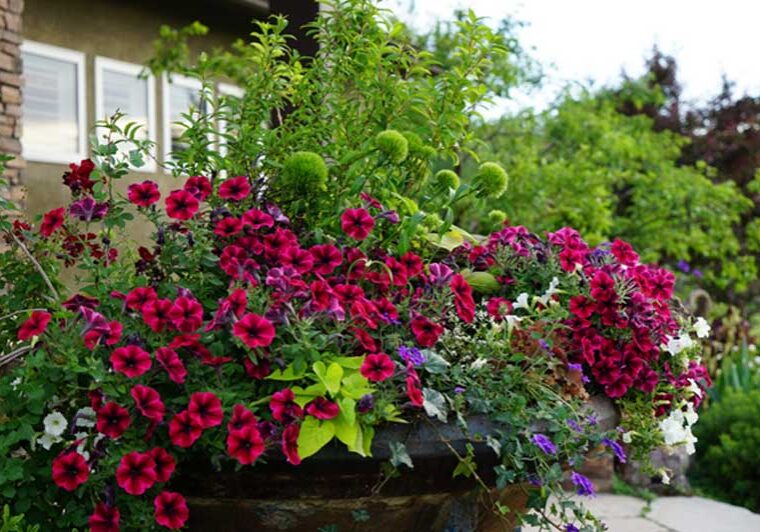 We understand that gardening can sometimes be messy. Our gardening crews will always respect your property and make sure it looks neat and tidy before we go. It is our job to meet your gardening expectations. If you ever have any questions or concerns, you can contact us, and we'll take care of the problem for you. Outdoor Craftsmen is good at finding creative, natural solutions for any gardening issue. You can depend on us to ensure your plants and garden areas look perfect throughout the four seasons.
Find Natural Abundance that Will Further Enhance Your Outdoor Living
Gardens bring your outdoor areas to life, and they attract local wildlife. What kind of gardens can you imagine in your landscape? If owning a garden sounds like too much work, think again. Our garden maintenance services take care of everything, so all you have to do is enjoy. Have a look at our gallery to gather gardening ideas for your Boulder, Colorado property.
Let Us Help You With All Your Landscaping Needs
Proudly Serving Homeowners in
Boulder and These Neighboring Areas
Interested in
Professional Garden Maintenance?
When we take care of your gardens, you have time to stop and smell the flowers. Enjoy the convenience of full-service garden maintenance from experts who truly care about your plants and property. Contact us to learn more about our services. We'll answer your questions and get you started on a maintenance experience you won't regret.